Devils Bridge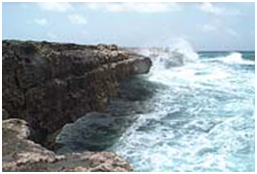 At the north-eastern point of Antigua there is a remote wild area known as Indian Town Point. The area was legally constituted as a National Park in the 1950's.
Within the park there is a remarkable example of sea-water erosion. Geological, Devil's Bridge is a natural arch carved by the sea from soft and hard limestone ledges of the Antigua formation, a geological division of the flat north-eastern part of Antigua. A bridge was created when a soft part of the limestone eroded away by action of Atlantic breakers over countless centuries.
Sammy Smith, a 104 year old Antiguan patriot had the answer. Here is a quote from his memoirs "To shoot Hard Labour".
"On the east coast of the island is the famous Devil's Bridge. Devil's Bridge was call so because a lot of slaves from the neighboring estates use to go there and throw themselves overboard. That was an area of mass suicide, so people use to say the Devil have to be there. The waters around Devil's Bridge is always rough and anyone fall over the bridge never come out alive"
————