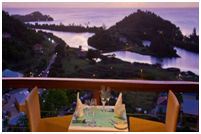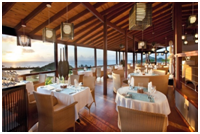 Arguably the most spectacular dining location in Antigua, Carmichael's gourmet restaurant sits at the highest point on Sugar Ridge. With floor to ceiling windows around the restaurant, enjoy views
of the Caribbean and surrounding lush greenery. Perfect for watching the sunset or stargazing, Carmichael's chic open-air space offers a first-class dining experience.
Executive Chef Gregory Williams has been with Sugar Ridge since 2009 and has created a menu emphasizing fresh seafood and local ingredients with a Caribbean flair. The Chef's signature dishes include the lobster medallions and a Caribbean bouillabaisse. If you can't decide on just one entrée, indulge in the Chef's Tasting Menu, where seven courses are sure to dazzle your palate.
In addition to the gourmet menu, Carmichael's also offers vegan options with the same great taste. For an outdoor experience, "Sunday Chill" pairs music with small plates for unique poolside dining. Private gazebos can also be set up on the pool deck for a private, candlelit dinner.
Or, if all you're looking for is a drink, visit Carmichael's bar for an exotic cocktail to punctuate the beginning or end of your evening.
Carmichael's is a dinner-only restaurant, with dinner seating beginning at 6PM.https://www.sugarridgeantigua.com/dining/carmichaels/————