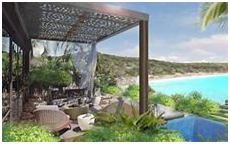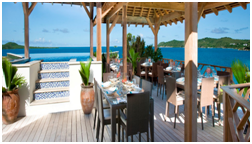 The Bay @ Nonsuch, is located on a bluff overlooking the tropical waters of Nonsuch Bay. Carefully designed to make the most of the dramatic site, dining terraces, snug seating areas, and its own infinity pool are contoured along the edge of the hillside.
Here the team is lead by award winning Chef Mitchell Husbands who creates menus which draw inspiration from around the world. During the day dishes emphasize fresh, simple Caribbean and international favorites. Breakfast and lunch are served buffet style. A wide selection at breakfast ranges from fresh fruit, cereals and pastries, though regular and special hot items are available including a cooked to order egg station. The buffet lunch includes hot and cold selections and daily grill options.
Dinner is a formal, a la carte occasion. Diners can relax at the lounge bar for cocktails before choosing from a sophisticated, internationally inspired dinner menu and a comprehensive wine list.  Dinner menus include both international favorites and local seafood options.
OPEN EVERY DAY BREAKFAST/LUNCH AND DINNER