good for those who are adrenaline junkies!The Antigua Rainforest Canopy Tour is a unique eco-tour through Antigua's lush rainforest where you embark on an unforgettable 23-element journey through the verdant forest, high above the trees.
There is a series of zip lines and suspension bridges connecting to typical challenge elements and all give you a wonderful opportunity to have a bird's eye view of the backdrop of flora, fauna and numerous bird species in the rainforest.
Midway, you can enjoy a refreshing drink of water in our split-level tree house, hidden from the rest of the world! There are 12 zip lines,4 suspension bridges, 2 unique, absolutely safe 26-feet & 45-feet controlled descent 'Leap of Faith' and a 9 element challenge course.
After walking the 'Stairway to Heaven' stairway out of the gorge, the tour will finally bring you to all the facilities of our gorgeous 2,000 square feet bar/café, where you can relax on the viewing veranda with a refreshing drink. Our gift shop and viewing platform overlook the Antigua Rainforest and the Antigua Rainforest Canopy Tour.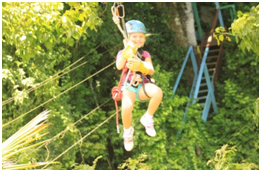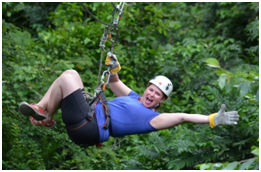 ————